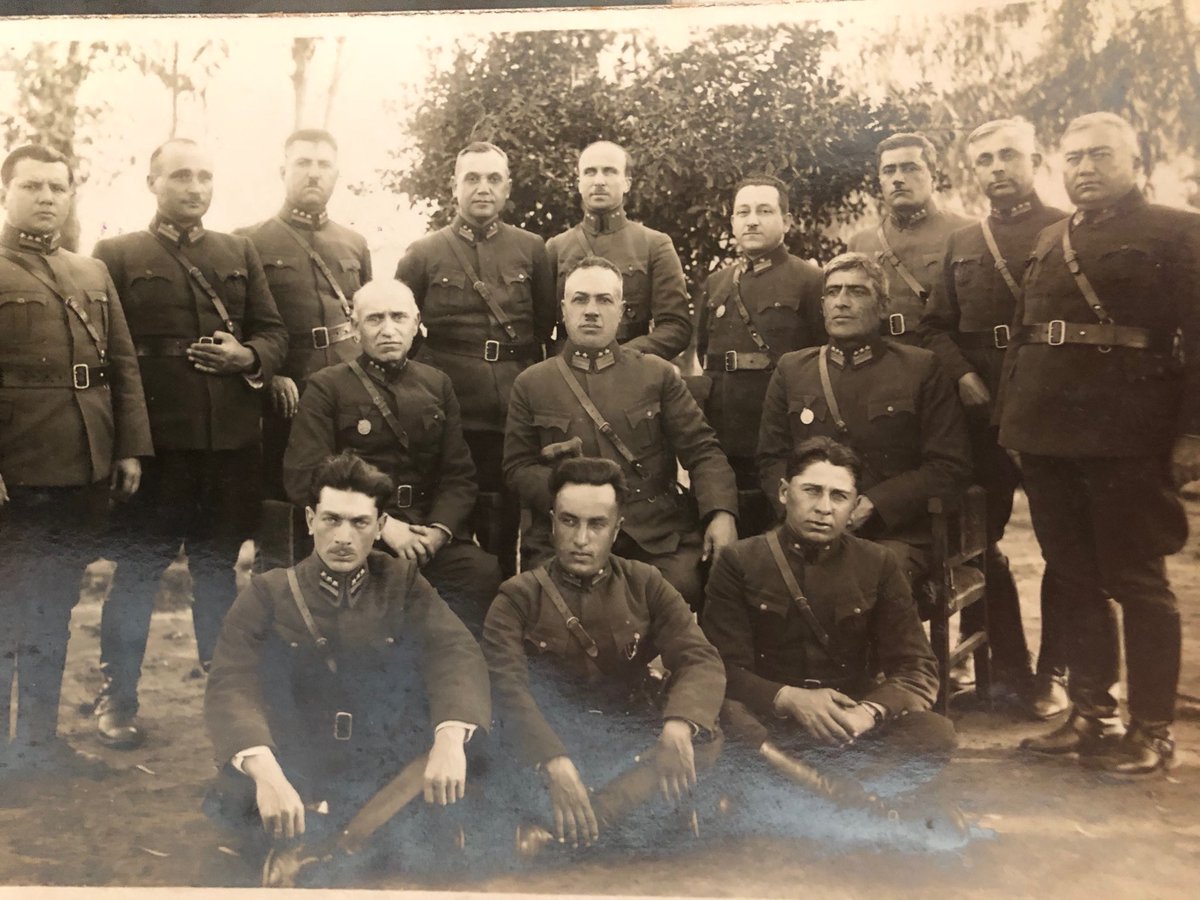 Why did I choose this topic?
In 1943, General Mustafa Muğlalı ordered to eliminate 33 peasants in Van because their activities were considered to be treason. They were wandering at the border of Turkey and Iran when they arrested. Eventually, without any judgment, they were executed right away in Van. Muğlalı, later, was arrested and judged because of this decision. Turkish justice forgave him due to his broken health in 1950. He shortly after died after that judgment.
I chose this topic since the arrest of a Turkish general due to 33 people's (not enemy soldiers') death seemed to be quite surprising as well as interesting for me.  I did not assume that any general tried to eliminate its own citizens without their insurrection to the state.
In addition to this, I am curious about how and why authorities in Ankara let him kill many people in such a method. I suppose that I can find a number of discussions and articles regarding Org. Muğlalı's assault.
I can use this event to understand the Republican Era of Turkish history in many ways. To exemplify, a high-ranking soldier could kill many people without judgment in the Early Republican Era. Additionally, this massacre took place in Van and this event might illustrate the military oppression over indigenous people of the Eastern Anatolia Region (like Kurdish peasants) during that time.
Which sources would I use?
I
"The Role of the Military in Turkish Politics" is a scholarly article published in the Middle East Journal in 1965 by Georg S. Harris. The article explains the place/role of the Turkish Military in making processes within the Early Turkish Republic.
In that article, Georg S. Harris contends the Turkish Military has a great place in making processes of Turkey via intervening politic life and made decisions without permission. Harris also argues that the Turkish Armed Forces is one instrument of repressions at the era of the Republican People's Party.  When the opponents of RPP(Democrat Party) came to power, they questioned the old regime's institutions like the TAF and its generals including Mustafa Muğlalı who ordered to murder 33 Turkish Republic citizens in Van in 1943. Harris claims that this is a good instance to demonstrate the TAF's influence over people in Turkey during World War II. The article continues with how 27 May coup d'état took place and why they attempted to do so. There is a wide range of documents used in the article to prove the main thesis. By doing so, Harris concludes with whether this influence would last or cease in the following years.
The main argument of the article is that Turkish military tradition often intervened politic life and made decisions without permission even before the 1960 Turkish coup d'état. That article is related to my project since I will try to analyze the role of the Turkish military (particularly General Muğlalı) in the newspaper clip about the massacre of 33 peasants in Van. In addition to the newspaper clip, this article also explains and exemplifies the conditions as well as the practices of the Early Republican Era. This part might assist me to understand in what conditions this bloodshed took place and to answer my questions like why the decisions of Turkish generals (e.g. Muğlalı) remained unquestionable for years based on examining the role of the military in the state.
Georg S. Harris is a historian who graduated from Harvard University. He worked at Ankara University during the 1950s and witnessed the 1960 coup d'état in Turkey. As an advisor, he served in the Foreign Ministry of the USA and assisted regarding the issues of Near East. He also wrote a number of works about Turkey like Troubled Alliance and gave lectures at Bilkent University as a visiting professor. I do not fault in the reading of Harris but I will use a small part of the article in my research paper. I will put more weight on social intervention like the death of peasants rather than politic interventions as Harris did.
II
I found "the Minutes Journal of Turkish Grand National Assembly" (Türkiye Büyük Millet Meclisi Tutanak Dergisi) to support my research as a primary source. It is an official document from December 1948regarding the massacre of 33 peasants in Van. In this record, the Democrat Party Eskişehir Deputy İsmail Hakkı Çevik questions the attitudes towards the massacred peasants of Van. Hüsnü Çakır, the Minister of National Defense of Turkey, answers his question in accepting the slaughter towards 33 citizens. In the wake of this, he mentions that this problem will be solved by trusting in judicial decisions. Hüsnü Çakın, again, speaks that it is too late to examine this event after five years and the responsible people must be immediately punished. This source is quite essential and related to my research since the fact that this is one of the first official documents to mention the deaths of peasants. Thus, this document reflects the standpoint of Turkish State in the late 1940s. Besides, the text enlightens the event itself in explaining how these citizens were killed from Hüsnü Çakır who listened from the last witnesses. Thanks to this factor, the voice of witnesses could be heard in an official record prepared by the Turkish Republic.
III
Özgen, H. Neşe. Van-Özalpve 33 Kurşun Olayı:  Toplumsal Hafızanın Hatırlama ve Unutma Biçimleri (Van-Özalp and the Case of 33 Bullets: Remembering and Forgetting Types of Social Memory). (place: TÜSTAV Publications. 2003).
In this work, H. Neşe Özgen analyzes the massacre of 33 Turkish citizens in Van with a sociological way of thinking. To illustrate, she questions what the sociological background of Van at that time was in asking peasants concerning Van and the massacre itself. After that, she examines how peasants remembered this event and told her about it. From this point, she proposes that the social memory of indigenous peasants has been destroyed through time by the Turkish Republic. She also offers that General Muğlalı was chosen by the Turkish Armed Forces for oppressing a probable riot because of his success by crashing rebellion in Menemen during the 1930s. In my research, however, I will not specifically focus on the Menemen case. Eventually, she explains how Muğlalı was treated and later judged by Turkish courts. This book has a significant portion for my research paper since I can hear the last witnesses of that bloodshed event in an oral way.
Neşe Özgen is a former sociology professor at Ege University and works on sociological methodology and regional development of Turkey. She is currently working at Social Sciences Data Bases in Scientific and Technological Research Council of Turkey (TÜBİTAK). I fault Özgenin her reading of Menemen case. Unlike Özgen, I put more weight on the slaughter of 33 peasants in Van instead of why and how people in Menemen rebelled against the Turkish State.
IV
Esengin, General Kenan. Orgeneral Muğlalı Olayı: 33 Kişinin Ölümü (General Muğalı Event: The Death of 33 People. Yenilik Publications. 1974.
In this book, Kenan Esengin examines the death of 33 people in a different way. In his point of view, this event is not a massacre because killed peasants were actually spies as well as looters. They continued smuggling and theft in a mountainous area. Their movements put Turkey's border security into danger and hence they would pose a threat to Van region itself. For this reason, Muğlalı had to kill them for the sake of his country. However, Esengin fails to provide sufficient proof for his argument. There is not evident data about the robbery of peasants as well as their duties as "spies" without stories and gossips. In this regard, he also claims that General Muğlalı was an innocent soldier who was taken into prison for the Democrat Party's political agenda. That is, he offers that the Democrat Party aimed to get votes from Kurdish people by arresting Muğlalı. For proving his claim, he employs a wide number of data from newspapers to official documents to demonstrate Adnan Menderes is an example of cunning politicians.
Kenan Esengin is a retired general in the Turkish Armed Forces and served as Zonguldak deputy of Republican Villagers Nation Party (CKMP) in the Turkish Grand National Assembly (TBMM) after 27 May coup d'état.  I fault Esenginin his reading of the guilt of peasants as well as the innocence of Muğlalı. I will propose the opposite of his argument in considering oral history from local people in Van.